German version: Zur deutschen Version dieser Seite wechseln
No titles, no managers, no departments, no budgets, no overtime, no fear. Instead: self-responsibility, feedback, learning, freedom, and fun – that's how we create value for our customers. Our new book "24 Work Hacks … we wish we discovered sooner" shows hacks that work for us.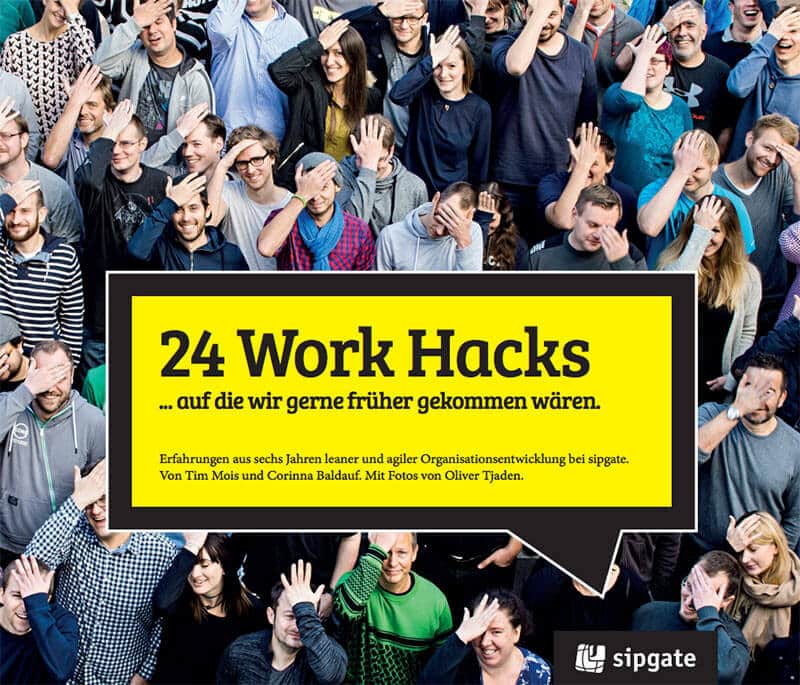 "24 Work Hacks" is a unique blend of coffee table book and business book: Large photos with crispy texts. Ideally suited to entice others to try agile and lean approaches.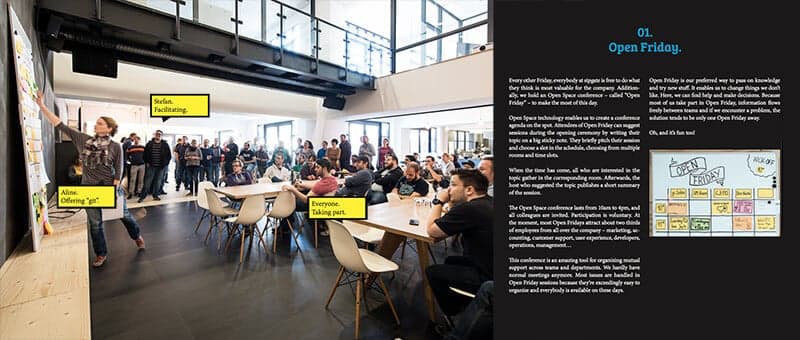 Double page spread from "24 Work Hacks"
Take a peak?
Would you like to read the first work hack? Here's a sample chapter for your reading pleasure (PDF, 4 MB)
Or would you rather secure a copy rightaway? (ISBN: 978-3-00-054923-6)
What's it about?
What happens when you go full agile and lean – with all of the company, not just the IT department? Wonderful things! When we started out with Scrum in 2010, all we wanted was to deploy updates more often than every few months. Nowadays we deliver new value to our customers (aka go live) more than 20 times a day and that's just the tip of the iceberg of what's changed.
The book presents 24 Work Hacks that make us faster, better and happier. Besides proven agile methods like such as stand-ups and retrospectives, there are innovative, custom solutions:
Open Friday – An Open Space every 2 weeks that allows us to distribute know-how and solve problems
Peer Recruiting – At sipgate, teams hire new colleagues, not bosses
Peer Feedback – Bosses don't give feedback either. Colleagues give each other meaningful feedback and ideas on how to grow
Transparent Numbers – Every employee can get any relevant number with one click: How much revenue does a product generate? Have we lost or gained customers?
… and many more …
Authors
Tim Mois is one of the founders of sipgate. He is lean and agile with all his heart.
Corinna Baldauf works at sipgate and can't stop thinking about agile and lean topics. She's the creator of Retromat.
Oliver Tjaden took all photographs in this book in our offices in Düsseldorf.
Dive in
You've already read "24 Work Hacks" and you're hungry for more? Here are the links and recommended reading from the back of the book.
Press kit
You want to tell the world about our book? Lovely! We've gathered a few photos and text snippets to give you a leg up. You can download our fabulous "24 Work Hacks" press kit here (ZIP, 13 MB). Check out the "README.txt" within the ZIP-file for an overview of the material.
Contact
We're looking forward to questions and comments at workhacks@sipgate.de. Since we're a telephony provider you are also welcome to call: +49 (0)211 / 63 55 55 33